Online whisky auction software for whisky online auctions
Are you looking for online auction software that can meet your needs as a whisky auctioneer in the modern era? This is how we can assist.
For more than 15 years, we have been offering online auction software to auctioneers all around the world. We offer auctioneers online auction software that is intended to revolutionise the way you conduct online auctions. We are frequently referred to as the trusted partner of choice for auctioneers.

With the press of a button, select among timed, webcast, sealed bid, or pre-bid auctions.

We give you everything you will need!
Timed or webcast auctions for the whisky auctioneer?
Given the nature of whisky, we have two main solutions for the whisky auctioneer, depending on your strategic approach.
First off, our timed auction solution is feature-rich and enables bidders to submit the highest bids, with the system placing further bids on their behalf. To create a captivating online auction experience, the timed system also includes normal bid extension, auto-outbid notifications, and lot staggering.

Users of our intelligent filtering system can browse lots based on categories.

Second, get ready to immerse your online bidder in a world of live online auctions with our webcast auctions. Live video, audio, and bidding are all designed to enhance the classic live auction experience. The only distinction? Pre-bids can be made during the auction to save time and improve accessibility for online bidders.

Without the need to download any additional programs, our platform enables seamless bidding across all current devices and browsers by utilising the most recent developments in cloud-based video technology.
Worldwide Whisky Auction Software Auction Support and Monitoring
To make sure that every sale goes properly, we keep an eye on every single auction for one of our clients. For clients who require it, we also offer in-house site development, email marketing, and technical support.
Our sales, bidder management, and real-type reporting tools will astound administrators of the system, who will receive comprehensive training and guidelines.
We make running your online auctions straightforward.
Online auction solutions for your business
🎥 Live Webcast Auctions
⏳ Timed Online Auctions
📈 Marketplace
👩‍💻 Remote Clerking option
✅ Everything you need & will run from your own website
🏷 White Label Auction Software – 'value protect your bidders & IP' ( Not a group site
)
So modern works on all devices without frustrating bidders to download apps
🧑‍💻 Includes Setup, Training & Local Ongoing Support
🧾 Auction invoicing & reporting
🖥 Websites & marketing
😊 Simple for bidders and powerful for auctioneers
So ready to get started?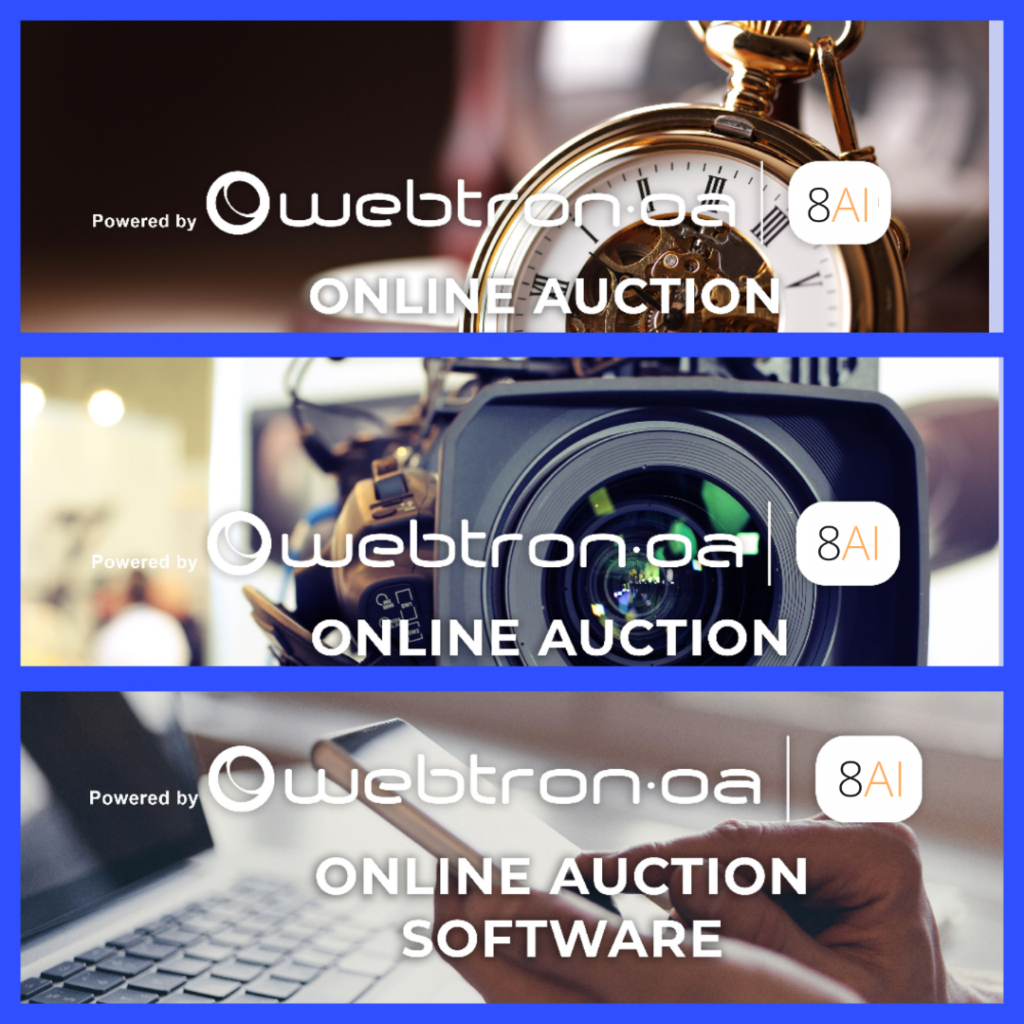 The New Webtron 8.0AI Auction Software is here
There has never been a better time to upgrade your online auction software to Webtron's 8.0AI newest artificial intelligence auction software release.
Take advantage of a white-label auction solution that runs from your own website. Webtron 8.0AI has been designed for Whisky auctioneers like you to take your online auction business to another level.
It's 'Simple for bidders and powerful for auctioneers'.

For a free demo, complete the form below.
FAQS
What is whiskey auction software?
Whiskey auction software is a platform that allows whiskey collectors and sellers to buy and sell rare and collectible whiskies in an online auction setting.
How does whiskey auction software work?
Whiskey auction software provides a platform for sellers to list their whiskey inventory and for buyers to place bids on those items.
What are some of the best features of whiskey auction software?
Whiskey auction software typically includes a variety of features to help facilitate the buying and selling of rare and collectible whiskies. Some of the key features of whiskey auction software include:

– Bidding capabilities: Whiskey auction software allows buyers to place bids on items they are interested in, and tracks the bidding process in real-time.
– Shipping and logistics: The software can coordinate with third-party shipping providers to ensure that items are shipped to buyers in a timely and efficient manner.
– Customisable branding and design: Sellers can customise the look and feel of their listings to match their brand and create a cohesive online presence.
– Reporting and analytics: The software can provide detailed reporting and analytics on sales, bidding activity, and other metrics to help sellers make informed decisions about their inventory.
– Security and fraud prevention: Whiskey auction software includes features such as encryption, two-factor authentication, and secure payment processing to ensure that buyer and seller data is protected and transactions are secure.

What are the benefits of whiskey auction software?
Benefits of using whiskey auction software include the ability to reach a wider audience of potential buyers, increased participation, and streamlined payment and shipping processes.